T-700PX
T-700PX
Unit Dimensions ( L*W*H) inch/cm Footprint 168*84*175 cm / 66*33*69 inch
19″ to 23″ Manual adjustable stride length (VST) LED Stride Board Combine with Cooling Fan
0-24 Resistance Level Special Toggle Switch Quick Adjustment System with Fixed Handlebar
0-24 Pre-set Workout Program & Unlimited Custom Work Program
Build in Re-Charge facilities for all the Tablet equipment–iphone/IPAD
Infinite & Diverging Handlebars for the five most commonly used hand positions
Quiet magnetic resistance,special belt drive, inertia load 25kg speed ration 1:12.7
Pre-Install Music Power Audio System, MP3/IPOD Compatible System
---

The T-700PX elliptical offers a large adjustable stride length using the patented Variable Adjustable Stride (VST).
The Go Elliptical T-700PX offers a manual adjustable stride from 19" to 23"allowing users to open up their stride to comfortably simulate running.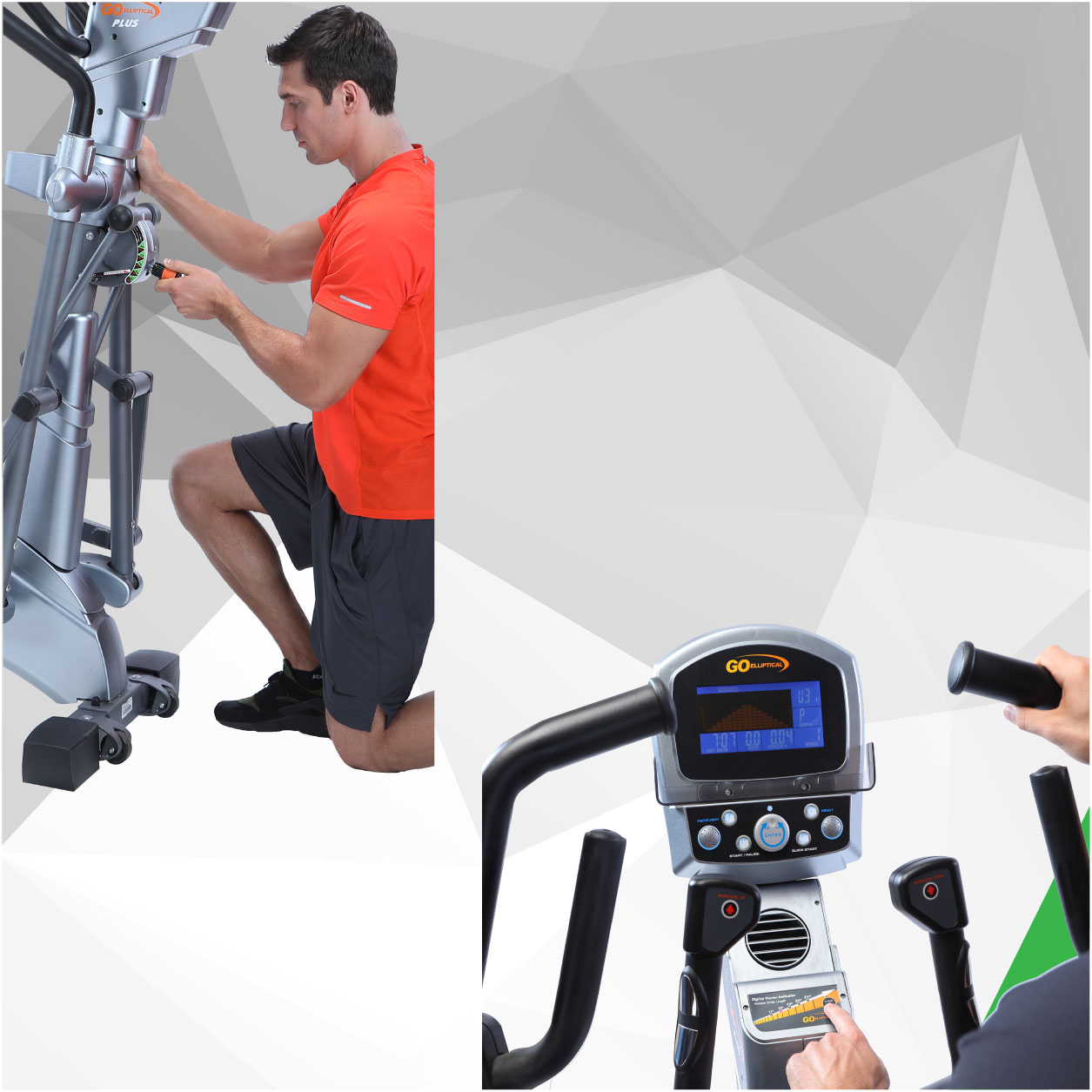 The Manual Variable Adjustable Stride (VST) adjustment allows you to adjust the stride by simply pulling the adjustment pin and selecting the preferred stride length. Stride adjustment light board LED display
For added comfort and muscle isolation, the Go Elliptical T-700PX elliptical has multi-position handlebars and oversized 17½" pedals. The pedals are adjustable from 0 to 6 degrees, removing stress and pressure from the feet, ankles and knees.
The T-700PX elliptical is also equipped with a USB charging port to charge your multimedia device while you work out. For ease of use, adjust the resistance from the stationary handlebars or use either the contact heart rate sensors or wireless heart rate to view your pulse (chest belt transmitter additional purchase).
| | | |
| --- | --- | --- |
| 1. | Unit Dimensions ( L*W*H) inch/cm Footprint | 168*84*175 cm 66*33*69 inch |
| 2. | Unit Weight Lbs / Kgs | 187 Lbs 85 Kgs |
| 3. | Maximum User Weght Lbs / Kgs | 325 Lbs 147 Kgs |
| 4. | VST Range (Variable Adjustable Stride Length ) inch / mm | 19-23 inch 48 -58 cm |
| 5. | Resistance Level | 1-24 |
| 6. | Heart Reate Monitoring ( EKG-contact) | YES |
| 7. | Power Requirement ( AC Adaptor) | YES |
| 8. | Pe-set Workout Program Can be set 4 Users | 24 |
| 9. | Custom Workout Program ( Including New Random Program provide unlimited profile for choice) | unlimited |
| 10. | 7" LCD 3 color back LT Console Display Type | YES |
| 11. | Multi-Function Rotary Encoder for Display console | YES |
| 12. | Encoder Button for: Distance, Time, Speed, age, Sex, Body Weight, Heigh, Heart rate, Calories | YES |
| 13. | Tablet Smart Phone System ( iOS/Andorid) with Tablet Eequipment Holder | optional |
| 14. | KM / MILE Changeable Option | YES |
| 15. | Heart Rate Recovery | YES |
| 16. | Wireless HR Chest Belt included | optional |
| 17. | Build in Re-Charge facilities for all the Tablet equipment--iphone/IPAD | YES |
| 18. | Quick Start / Fitness Test | YES |
| 19. | HRC Function / Manual Program | YES |
| 20. | Personal Program up to four (4) users | YES |
| 21. | Bottle Holder & Storage Rack | YES |
| 22. | Infinite & Diverging Handlebars for the five most commonly used hand positions | YES |
| 23. | Toggle Switch Adjustment System with Fixed Handlebar | YES |
| 24. | Slient J6 Belt Rear Drive - Magnetic Resistance | YES |
| 25. | Eddy Current Magnetic System | 10 Kgs |
| 26. | Speed Ratio (Special Large Ratio Design) | 1:12.7 |
| 27. | New oversize 60mmX60mm large robust and elegant front and rear foot stabilizer tube provide the extra stable for the unit. New floor level adjustment knob system provide the quick/easy level the product. | YES |
| 28. | Zero to Six degree easy adjustable foot pedals include with the unit to provide the choice of most comfortable exercise foot pedal position for exercise. | 17*6 inch 43.5*15 cm |
| 29. | Special LED Stride Board combine with Cooling Fan Indicator System Display the Motorized Stride Length in use | YES |
| 30. | Transportation Wheels for Easy Moving and Storage new Robust and Elegant Stabilizer (Front/Rear) | YES |
| 31. | Special Aluminium Rail together with the Strong & Heavy Duty P.U. Roller with Ball Bearing, Function with the second Drive Step Tubes and Centralize Adjustments System | YES |
| 32. | Pre-Install Music Power Audio System with the Heigh / Low speakers, MP3/IPOD Compatible System with build-in cable, one 2.0 meter extra long cable and earphone included | YES |
| 33. | Warranty; Life-Time: Main-frame, Parts:- 1 year | YES |
| 34. | A Pair of working gloves & one maintance cleaning towel included with all items | YES |
| 35. | In order to provide user the easy assemble the VST machines all unit shipped with pre-assembled condition With Two shipping Cartons carton 1 –the Main frqme Carton 2—Pre-assembled VST system the packing info Are | Carton-1 152*40*72 cm Weight: 62 KGS Carton-2 130*35*72 cm Weight: 44 KGS |