V-450X
V-450X
Unit Dimensions ( L.*W*H) inch/cm Footprint 61*28*65 inch / 155*71*165 cm
18 inch / 457mm Stride Length – inch / mm Changeable
0-24 Resistance Level Special Toggle Switch Quick Adjustment System with Fixed Handlebar
Build in Re-Charge facilities for all the Tablet equipment–iphone/IPAD
0-24 Pre-set Workout Program & Unlimited Custom Work Program
Quiet magnetic resistance,special belt drive, inertia load 20kg speed ration 1:12.7
3 position chroming swinging Arm &Super Size Step Pedal with 8 position foot pedals adjustable
Pre-Install Music Power Audio System, MP3/IPOD Compatible System
---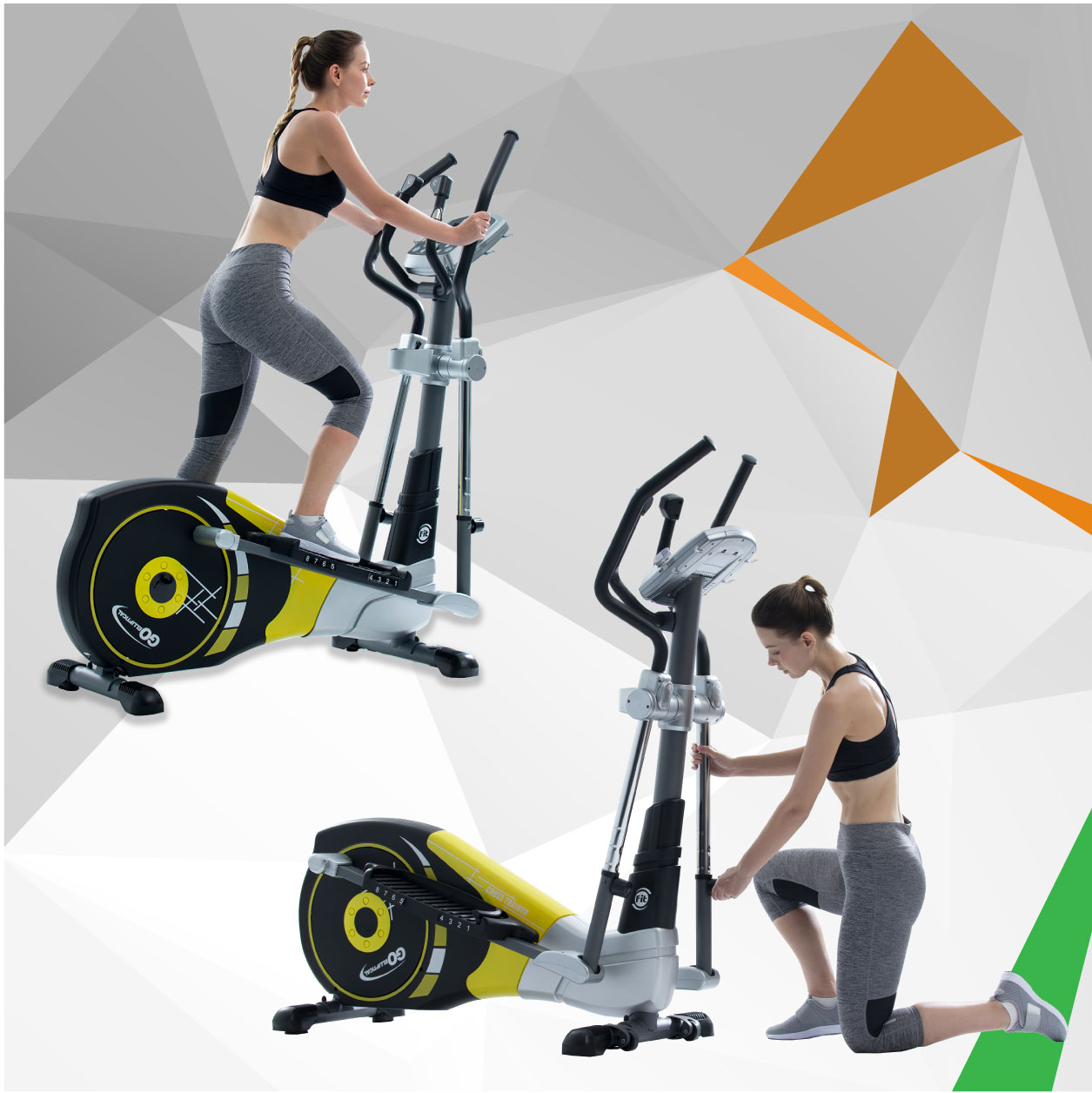 V-450X 18″ Standard Stride with Adjustable Swinging Arms
GOELLIPTICAL V-450X Standard Stride 18″ with Three position adjustable Swinging Arms, eight position adjustable step foot pedal, Quick program adjustment hand system support fully HRC control program. Perfect item for home or Gym.
Large 7″ LCD display
The 7" LCD Backlit Rotary Encoder Display Console Contains Time, Speed, Distance, Calories and Heart Rate readout. Heart Rate Monitoring ( EKG-Contact)
Build in Re-Charge facilities for all the Tablet equipment plus Reading Frame.
| | | |
| --- | --- | --- |
| 1. | Unit Dimensions ( L.*W*H) inch/cm Footprint | 61*28*65 inch 155*71*165 cm |
| 2. | Unit Weight- Lbs / Kgs | 139 Lbs 63 Kgs |
| 3. | Maximum User Weight - Lbs / Kgs | 300 Lbs 135 Kgs |
| 4. | Stride Length - inch / mm Changeable | 18 inch 457mm |
| 5. | Resistance Level | 1-24 |
| 6. | Heart Rate Monitoring ( EKG-contact) | YES |
| 7. | 7" LCD 3 color back LT Console Display Type | YES |
| 8. | Multi-Function Rotary Encoder for Display console | YES |
| 9. | Encoder Button for: Distance, Time, Speed, age, Sex, Body Weight, Heigh, Heart rate, Calories | YES |
| 10. | iphone/IPAD Tablet Rack | YES |
| 11. | Build in Re-Charge facilities for all the Tablet equipment--iphone/IPAD | YES |
| 12. | Power Requirement ( AC Adaptor) | YES |
| 13. | Pre-set Workout Program | 24 |
| 14. | Custom Workout Program ( Including New Random Program provide unlimited profile for choice) | unlimited |
| 15. | KM / MILE Changeable Option | YES |
| 16. | Heart Rate Recovery | YES |
| 17. | Quick Start / Fitness test | YES |
| 18. | HRC Function / Manual Program | YES |
| 19. | Personal Program ( Can be set 4 Users ) | YES |
| 20. | Bottle Holder & Storage Rack | YES |
| 21. | Special Toggle Switch Quick Adjustment System with Fixed Handlebar | YES |
| 22. | Slient J6 Belt Rear Drive -Magnetic Resistance | YES |
| 23. | Eddy Current Magnetic System | 8 Kgs |
| 24. | Speed Ratio (Special Large Ratio Design) | 1:12.7 |
| 25. | Super Size Step Pedal with Adjustable Bar for Eight Location Changeable | 25*5.5 inch 63.5*14 cm |
| 26. | Special Design Decorative Cover for the Front Post | YES |
| 27. | Padded Ergonomic Club Type Moving Handlebar | YES |
| 28. | Spedial Three Location Changeable Chrome Swinging Arm System | YES |
| 29. | Floor Level Height Adjustment | YES |
| 30. | Transportation Wheels for easy Moving and Storage | YES |
| 31. | Pre-Install Music Power Audio System with the Heigh / Low speakers, MP3/IPOD Compatible System with build-in cable, one 2.0 meter extra long cable and earphone included | YES |
| 32. | Warranty: Lifetime-Frame Parts - 1 years Labor - 1 year | YES |
| 33. | Carton size | 142*40*66 cm Weight: 67KGS 76*20*10 CM Weight: 4KGS |