V-950PU
V-950PU
Unit Dimensions ( L.*W*H) inch/cm Footprint 60*28*69 inch / 152*71*176 cm
19 inch / 470 mm Stride Length – inch / mm changeable
0-24 Resistance Level Special Toggle Switch Quick Adjustment System with Fixed Handlebar
0-12 Pre-set Workout Program & Unlimited Custom Work Program
Build in Re-Charge facilities for all the Tablet equipment–iPhone/IPAD
Quiet magnetic resistance,special belt drive, inertia load 22kg speed ration 1:13.7
3 position chroming swinging Arm &Super Size Step Pedal with 8 position foot pedals adjustable
---

The Go Elliptical V-950 Cross Trainer offers a fluid, comfortable 3-position, manually adjustable stride in a small package.
The Go Elliptical V-950 is equipped with a maintenance-free, silent magnetic resistance system providing a fluid elliptical movement. Whether a beginner or exercise enthusiast, the V-950 is adjustable to meet your needs.
The high quality welded tubular steel frame provides exceptional stability and durability. The transport wheels also make it easy to move the elliptical for storage.Bottle holder also as a platform for smart phone.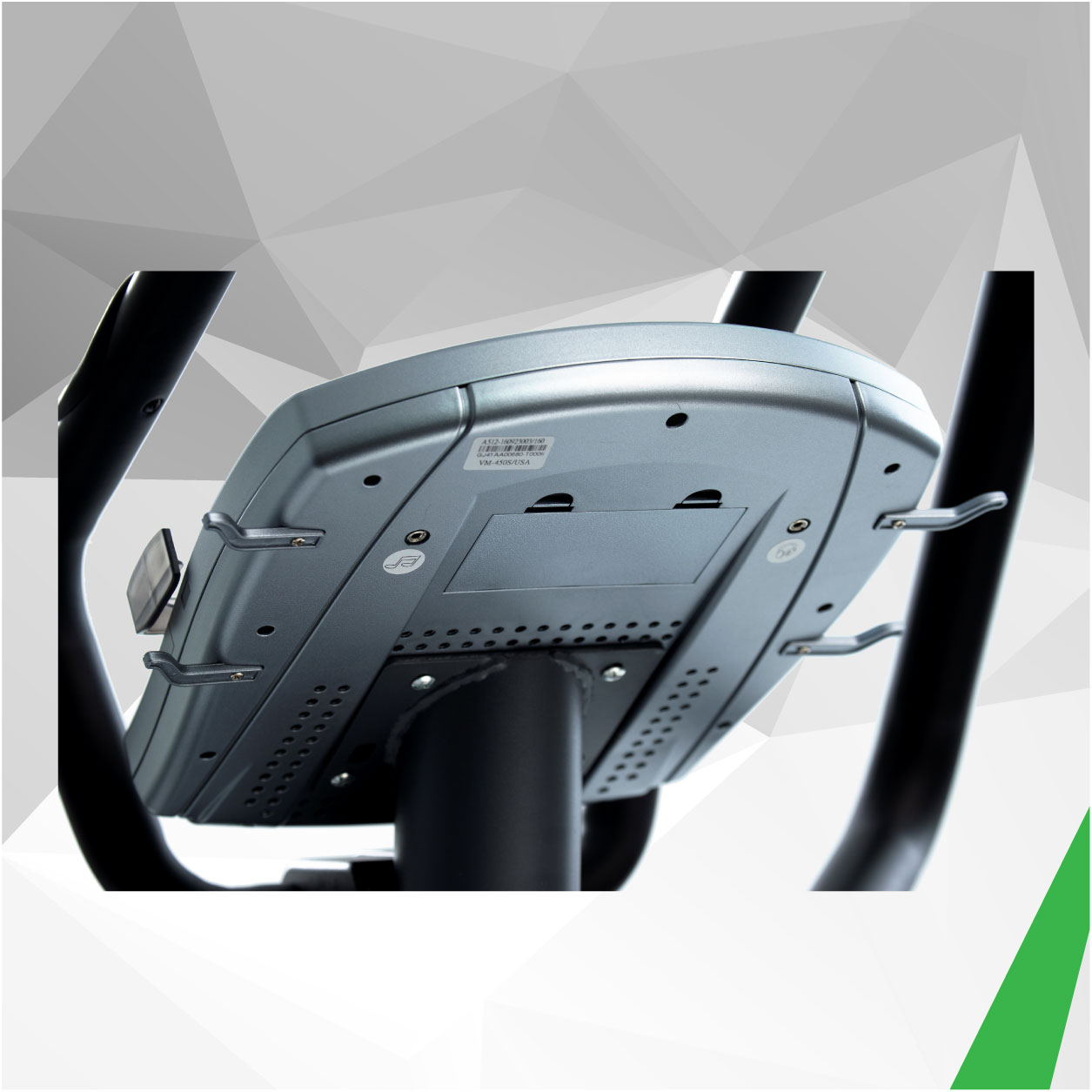 Listen to your favorite music as you burn calories with the included music system.
| | | |
| --- | --- | --- |
| 1. | Unit Dimensions ( L.*W*H) inch/cm Footprint | 60*28*69 inch 152*71*176 cm |
| 2. | Unit Weight- Lbs / Kgs | 159 Lbs 72 Kgs |
| 3. | Maximum User Weight - Lbs / Kgs | 300 Lbs 135 Kgs |
| 4. | Stride Length - inch / mm | 19 inch 470 mm |
| 5. | Resistance Level | 1-24 |
| 6. | Heart Rate Monitoring ( EKG-contact) | YES |
| 7. | Power Reuirement ( AC Adaptor) | YES |
| 8. | 5.5" LCD 3 Color Large Back Light Display | YES |
| 9. | Pre-set Workout Program | 12 |
| 10. | Custom Workout Program ( Including New Random Program provide unlimited profile for choice) | unlimited |
| 11. | Touch Penal Button for: Distance, Time, Speed, age, Sex, Body Weight, Heigh, Heart rate, Calories | YES |
| 12. | KM / MILE Changeable Option | YES |
| 13. | Heart Rate Recovery | YES |
| 14. | Build in Re-Charge facilities for all the Tablet equipment--iPhone/IPAD | YES |
| 15. | Quick Start / Fitness test | YES |
| 16. | HRC Function / Manual Program | YES |
| 17. | Personal Program ( Can be set 4 Users ) | YES |
| 18. | Bottle Holder & Storage Rack | YES |
| 19. | Special Toggle Switch Quick Adjustment System with Fixed Handlebar | YES |
| 20. | Slient J6 Belt Rear Drive -Magnetic Resistance | YES |
| 21. | Eddy Current Magnetic System | 9 Kgs |
| 22. | Speed Ratio (Special Large Ratio Design) | 1:13.7 |
| 23. | Super Size Step Pedal with Adjustable Bar for Eight Location Changeable | 25*5.5 inch 63.5*14 cm |
| 24. | Special Design Decorative Cover for the Front Post | YES |
| 25. | Padded Ergonomic Club Type Moving Handlebar | YES |
| 26. | Spedial Three Location Changeable Chrome Swinging Arm System | YES |
| 27. | Floor Level Height Adjustment | YES |
| 28. | Transportation Wheels for easy Moving and Storage | YES |
| 29. | Pre-Install Music Power Audio System with the Heigh / Low speakers, MP3/IPOD Compatible System with build-in cable, one 2.0 meter extra long cable and earphone included | YES |
| 30. | Warranty; Life-Time: Main-frame, Parts:- 1 year | YES |
| 31. | Carton size | 152*42*72 cm Weight: 63KGS 102*42*30 cm Weight:22 Kgs |
Product manual/instruction download:
https://tw.go-elliptical.com/go-elliptical-fitness-assembly-3/