V-950X
V-950X
19″ stride no impact elliptical motion with quiet magnetic resistance, special belt drive, inertia load 20kg speed ratio 1:12.7.
The intuitive computer provides a Club Type 128 Dot Large LED readout displaying the program profile, time, speed, distance, pulse and calories.
0-24 different resistance settings with Spedial Toggle Switch. Challenge yourself with 24 preset workout,random program with unlimited variations.
3 position chroming swinging Arm & 8 position foot pedals adjustable. Heart Rate Monitoring (EKG-Contact) on the fixed handlebar with HRC program, pre-install wireless heart rate receiver system.
MP3 & iPod compatible music system (through the headphone port) with USB charging port for your mobile device or tablet. Water bottle & storage rack.

Shipping Weight: 135 & 40 pounds (delivery with 2 packages)
---

GO ELLIPTICAL V-950X Deluxe Upgraded Version. Extra Length 19″ Stride Length Motorized Programmable Cross Trainer Club Type 128 Dot Luxurious Large LED Display, with Pre-install Wireless HRC Receiver, Perfect item for home or Gym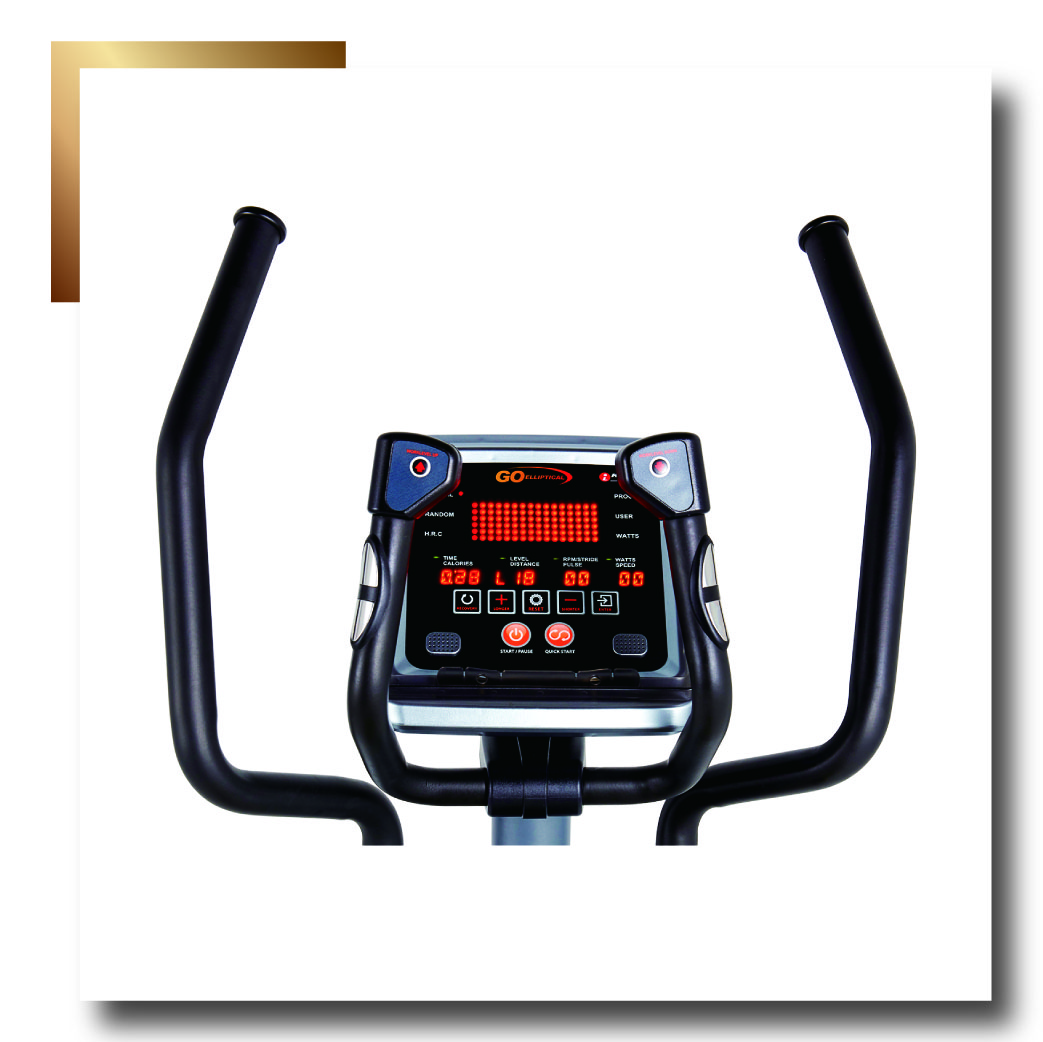 Heart Rate Monitoring (EKG-Contact)
Easily measure your heart rate during your workout using the commercial style handgrip sensors. The high quality welded tubular steel frame provides exceptional stability and durability.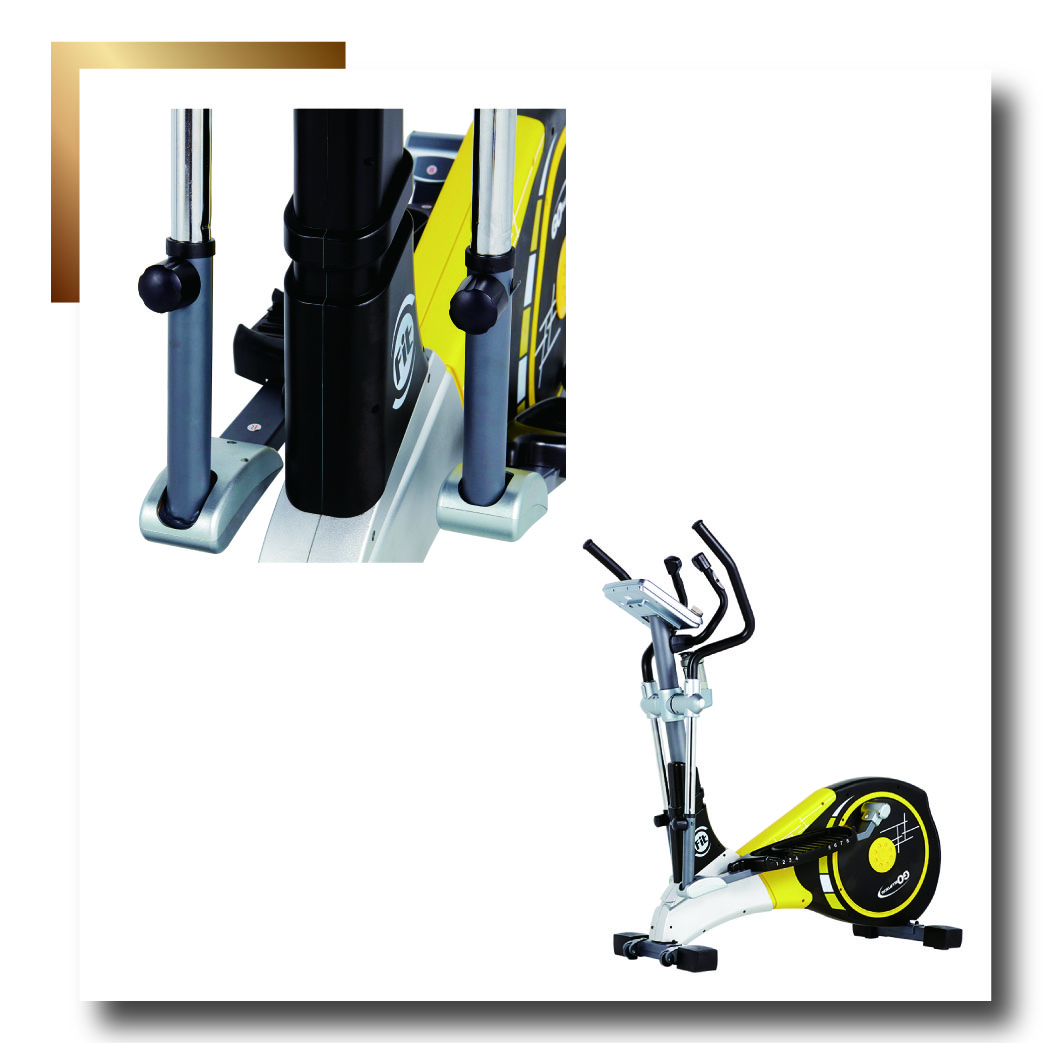 Chrome Swinging Arm W/ 3 Locations Changeable
The Go Elliptical V-600 Cross Trainer offers a fluid, comfortable 3-position, manually adjustable stride in a small package.
Music Enabled / USB charging port
Listen to your favorite songs with the Mp3 and iPod compatible music system (via the headphone port), and is also equipped with a USB charging port to charge your multimedia device while you work out.
| | | |
| --- | --- | --- |
| 1. | Unit Dimensions ( L.*W*H) inch/cm Footprint | 63*28*69 inch (160*71*175 cm) |
| 2. | Unit Weight- Lbs / Kgs | 174 Lbs 79 Kgs |
| 3. | Maximum User Weight - Lbs / Kgs | 300 Lbs 135 Kgs |
| 4. | Stride Length - inch / mm | 19 inch 483 mm |
| 5. | Console Display Type LED | LED |
| 6. | Build in Re-Charge facilities for all the Tablet equipment--iphone/IPAD | YES |
| 7. | Resistance Level | 1-24 |
| 8. | Heart Rate Monitoring ( EKG-contact) | YES |
| 9. | Power Reuirement ( AC Adaptor) | YES |
| 10. | Club Type 128 Dot Large LED LT Display Console | YES |
| 11. | Pre-set Workout Program | 24 |
| 12. | Custom Workout Program ( Including New Random Program provide unlimited profile for choice) | unlimited |
| 13. | Touch Penal Buttom for: Distance, Time, Speed, age, Sex, Body Weight, Heigh, Heart rate, Calories | YES |
| 14. | KM / MILE Changeable Option | YES |
| 15. | Heart Rate Recovery | YES |
| 16. | Quick Start / Fitness test | YES |
| 17. | HRC Function / Manual Program | YES |
| 18. | Personal Program | YES |
| 19. | Bottle Holder & Storage Rack | YES |
| 20. | Special Quick Adjustment System with Fixed Handlebar Toggle Switch | YES |
| 21. | Slient J6 Belt Rear Drive -Magnetic Resistance | YES |
| 22. | Speed Ratio (Special Large Ratio Design) | 1:12.7 |
| 23. | Eddy Current Magnetic System | 8 Kgs |
| 24. | Floor Level Height Adjustment | YES |
| 25. | Over Size Pedal | 25*5.5 inch 63.5*14 cm |
| 26. | Super Size Step Pedal with Adjustable Bar for Eight Location Changeable | YES |
| 27. | Padded Ergonomic Club Type Moving Handlebar | YES |
| 28. | Spedial Three Location Changeable Chrome Swinging Arm System | YES |
| 29. | Transportation Wheels for easy Moving and Storage | YES |
| 30. | Pre-Install Music Power Audio System with the Heigh / Low speakers, MP3/IPOD Compatible System with build-in cable, one 2.0 meter extra long cable and earphone included | YES |
| 31. | Warranty; Life-Time: Main-frame, Parts:- 1 year | YES |
| 32. | Carton size | 152*40*72 cm Weight: 61KGS 102*42*30 CM Weight: 18KGS |